Holla! =D
How are youu?!
Have a nicest day ever xD
So, speaking about OOR Tour.. did you know that ONE OK ROCK had a concert in Jakarta, Indonesia, last Sunday?
Yeah yeah. On Sunday, November 24th 2013!
Did you go to their concert? If yes, could you share me their photos/videos at that concert? Pleaseee? XD
Actually, I have already checked on youtube but, I can't find the good quality yet ._.
Ahh. Bad thing, I can't go to their concert. Because you know, as I said before, I have school and final exams this week. My mom didn't let me too. So yeah -_- Dammit!
So anyways, I'm going to share some pics of them. Concert in Jakarta. And of course, these pics aren't mine. Hahaha. I just took on the net. :p
Okay, here you go! /starting to get nose bleeds xD
So, haha what do you guys think? *nosebleed* LOL XD
Ahh. I bet the concert was so great. Ne? Haha.
And you know what? They spoke some Indonesian words. Uwahh, so funny! Ryota sang "Indonesia Raya" and said: "mantabs!" lol xD And Tomoya? He said like: "Saya suka bakmi! Saya cinta Indonesia!" haha Tomoya did it very well. He can speak Indonesian so fast and fluently! :o And Toru said: "Saya cinta kalian!" <3 Haha and what about Taka? He said: "Saya suka nasi goreng!" lol he also brought an Indonesiand flag! haha =D
I really love the concert! Though I can't see them in person but, it's okay. It was great enough haha. xD
Oh, one thing. I have a good news! Don't you know? The interview of ONE OK ROCK in Jakarta will be aired on November 27th (which is tomorrow) at 4pm in NET TV! omfg, I can't wait for it! Hahaha XD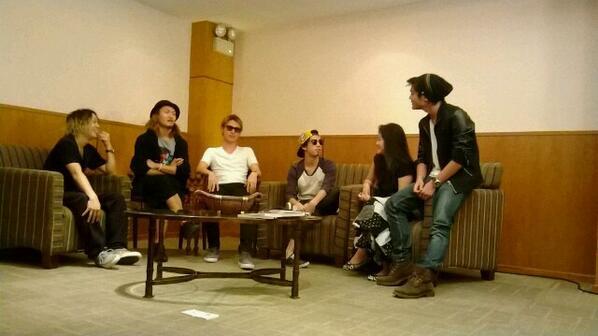 Anyways, I have to go now..
Bye-bye! :*